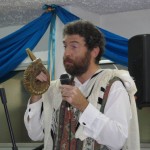 When Artists become believers and enter their calling, than they will use their talents for worshiping God and by means of Art they will spread the Good News of salvation all over Israel and to the ends of the world (concerts, exhibitions, drama, movies…)
1. Bringing the Good News to Artists in Israel. 2. Helping them to enter their calling, that is to worship the Creator by means of Art and to spread the Good News of salvation all over Israel and to the ends of the world. Why Artists? There is an excess of Artists in Israel today. Most of them are new comers from the former Soviet Union. They have no professional job; many of them are in emotional crisis – depressions, alcohol, drugs. In order to receive the Good News of salvation they need a delicate approach, which explains the Biblical point of view on the Arts and creativity, and the place of artistic people in God's plan.
"New Bezalel" Ministry.
Parts of the Ministry:
Lectures "What the Bible says about the creative nature of God, about Arts and about God's plan for Artists", – using multimedia, PowerPoint, music, etc.
Celebrations of Jewish feasts together with Artists non believers, using Jewish traditional elements, living music and singing including traditional prayers performed by believers – professional musicians and actors, explanations of Biblical meaning of the feasts, communication, etc.
Personal communication with artists and teaching them about faith.
We believe that God has a special plan for artists – to use their talents for the wide spreading of His Kingdom. The influence of Arts (music, theatre, cinema, visual arts, etc.) on human emotions and intellect is very strong. Satan uses arts for his purposes with great success and doesn't want them to be free from his control. We need a constant prayer support of this ministry and for these people. We know that, the One who is in us is stronger…
What has been done.
Five lectures using Power Point for the youth group.
Five Jewish feasts were celebrated together with non believers, where they could feel the creative atmosphere of the Holy Spirit.
Series of publications addressed to artists in Russian magazine "My Jerusalem".
Personal relations with a few families of artists.
Monthly lectures in Messianic Center in Jerusalem, starting from December 2005.
If you have a desire in your heart to pray for this ministry and intercede for us and for other participants – believers – musicians and actors, then start doing that. So you can really participate in the revival and in the wide spreading of the revelation of the Messia Yeshua (Jesus Christ) in Israel.
————————————————————————————–
DONATE  to TORAH-ART PROJECT through Return to Zion Community
————————————————————————————–
2,890 views